Hello readers! Have you ever experienced that weird feeling when you're applying for a job or something and you suddenly can't remember anything interesting about yourself or what you do? This has been happening to me a lot lately. Last year around this time, I was finishing up my applications to grad school, and while I was writing my personal statement I kept blanking on why they should want me to go to their school. "Um, I would like to go to your school, so please just take me and don't ask any more questions." Last semester, I was writing the first draft of my thesis proposal, and I kept getting stuck. "I don't know, I just want to do some science, please just let me do some science." Now I'm working on a grant proposal. I really have no idea how to write it. Can I just say "Hi, please give me your money to buy some, um, stuff, for um, science, thanks!" No? Yeah, didn't think so. From this, it probably sounds like I have no idea what my thesis is even going to be, which is not the case. I'm just pretty sure that my project sounds very boring to everyone who isn't in my immediate circle of academic support. Anyway, I've always struggled to write about myself and what I'm doing with my life, so when this week's prompt rolled around, I was like "oh great, what are even interesting things about me?"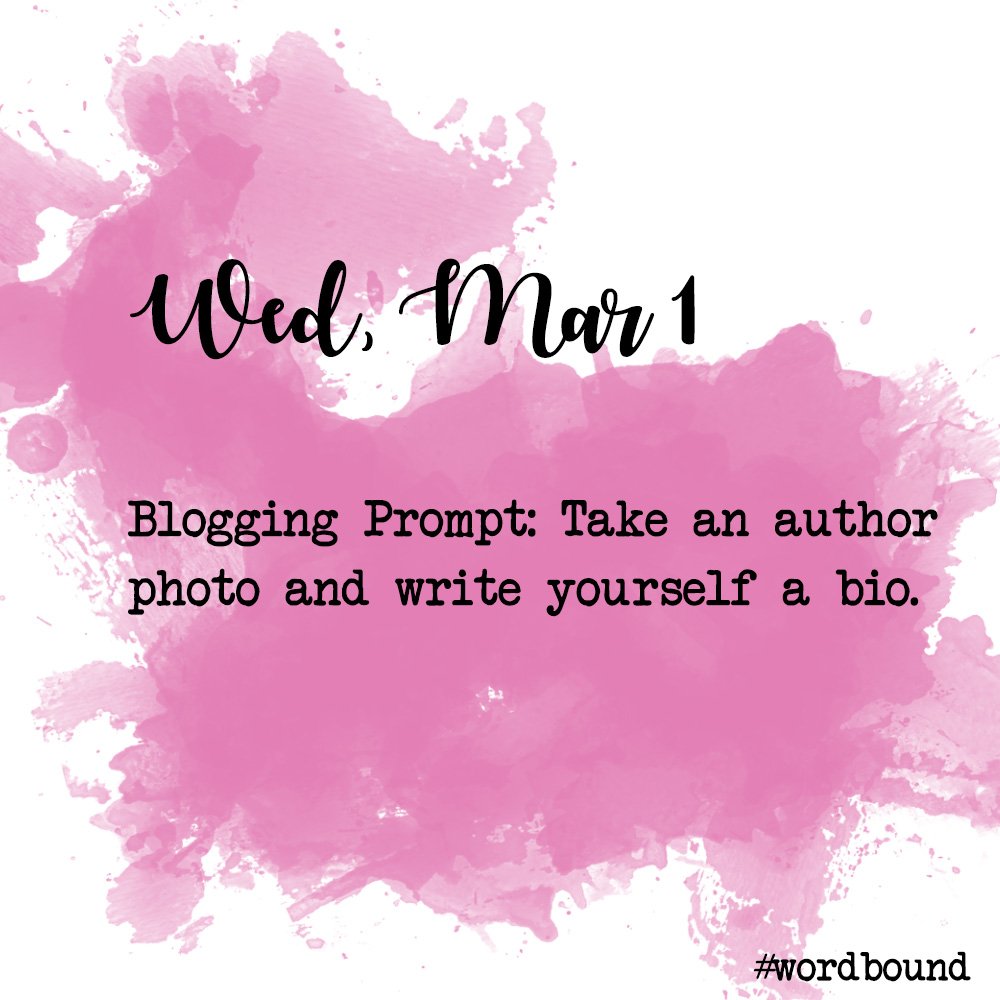 Without a clear place to start, I did what I'm trained to do: research! There are a lot of sources out there on how to take a good author photo and write a good bio.
I tackled the photo first. The hardest part was finding a good place to take it. My living space, much like my life, is currently in a state of minor chaos. I finally managed to find a good bit of empty space against a wall, set my camera on a char, set the timer, and posed. And then did that about 20 more times until I got a picture that was in focus, with me looking at the camera, and the light not all wonky. Then I cropped it down to size, and made it black and white (my camera has a black and white setting, but this is only just now occurring to me, whoops).
So, onto the bio. The general advice seems to be that you should write your bio to fit with the book. For example, if you wrote an informational book, it's a good idea to list your qualifications, like degrees or experience, but not so much if you wrote a middle-grade novel. Makes enough sense. Can you imagine if you picked up a YA novel about mermaids and the bio said that the author had a degree in finance? My reaction would be "interesting, but I don't care, tell me about mermaids and why I should read this book." But I don't actually have a book yet, so I'm going to have to be a bit more generic. I also love how so many blogs and sites tell me to consider who reads my work. Well, there are like 10 or so strangers on the internet, but other than that, it's mostly just me. I guess that's somewhere to start. I made a rule for myself a few years ago that I wouldn't post anything on the internet that I wouldn't want to see if it were someone else posting it. This kept me from posting content just for the sake of posting content. There are people out there who might be interested in hearing every single thought that pops into my head, but I'm not. This has worked out really well for me. I stopped youtubing when I stopped enjoying it, I quit facebook when it became nothing more than a source of procrastination, I only let family and close friends follow me on instagram. Overall, I have gotten a lot better at living in the present and enjoying it instead of feeling like I need to share everything all the time. So okay, following my own advice, what do I find interesting about myself? What would I want to know about me if I were a new reader? Okay, I think I've got it!
Emma is a biologist, writer, graduate student, and teacher. She is  currently working on two stories,
Moving On
, and
Red
. In her free time, she enjoys photography, crafting, and blogging. You can find Emma at
http://www.emmareadthings.com
or @emmanemsl on Twitter.
Short and sweet. I'm happy with it.
Does anyone else have this much trouble writing about themselves?