Hello readers! I'm not gonna lie, this week's Wordbound prompt had me a bit stumped.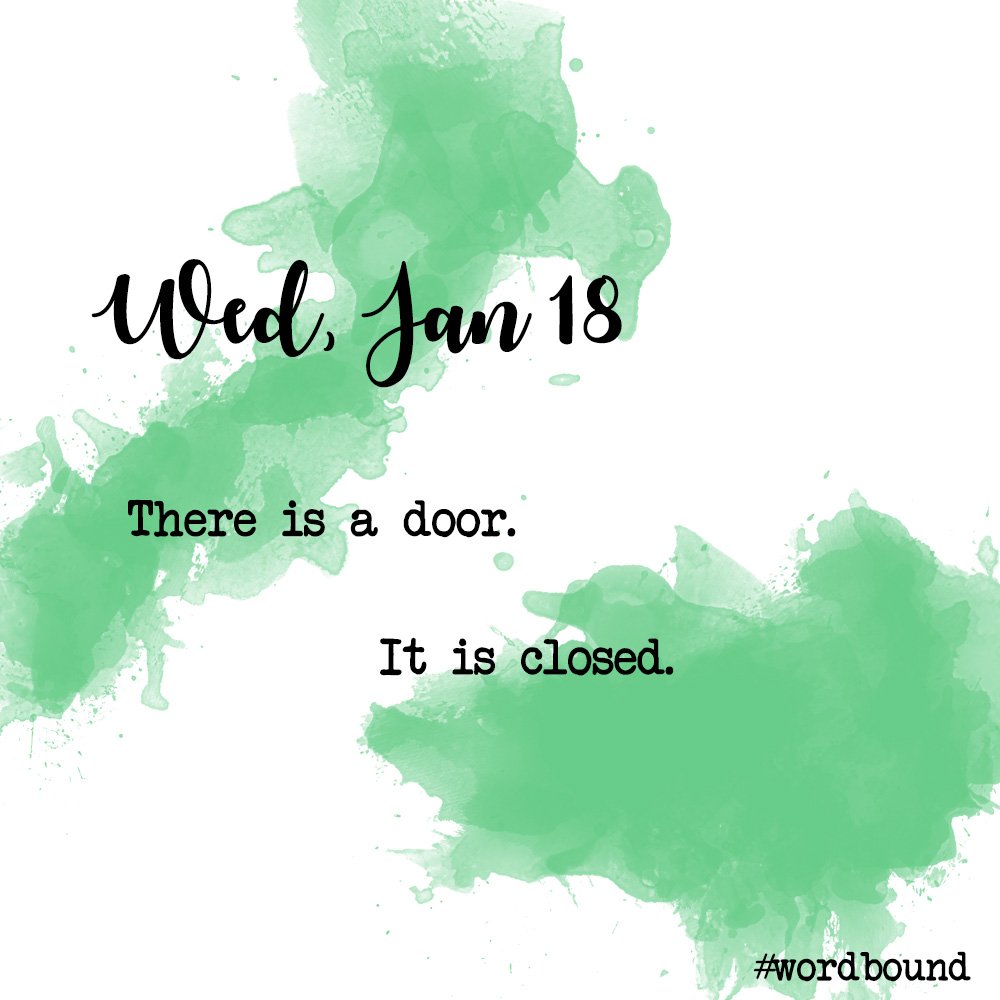 I originally thought that I could use a scene from my story that I've been re-writing this week, only to realized that all of the doors in the scene were either open or opening. Now, an opening door must start closed, but I felt like I could do better than that, so I wrote a new scene.
This is from the same story as last week, but I think I should provide some context. My story takes place in the past and in the present. I've been playing with verb tense to reflect time in each scene, which has been a challenge for my brain. A fun challenge though. In the past, my protagonist, Amelia, is crushing super hard on this guy who is kind of a manipulative, arrogant  buttface. In the present, Amelia has recently ended the relationship with manipulative buttface and is trying to figure out if she can trust herself to love again. This excerpt belongs to the past storyline. Enjoy, and let me know what you think!
On Thursday, I asked Cassie to go find him for me. I had driven myself crazy with worry and longing. I was barely eating, sleeping fitfully, skipping classes. I couldn't take another day of it. I knew what I had to do. The only way to fix things would be if I caved first. I had to be the bigger person and swallow my pride. That's what people in adult relationships did. They fixed things. So I sent Cassie to tell him I wanted to talk.
That had been nearly ten minutes ago, and now I was sitting on my bed, watching the closed door. I held my breath at every sound, waiting to hear his footsteps coming down the hall.
Maybe he wouldn't come. He probably wouldn't come. And I wouldn't blame him after all that I said. He looked so sad. But couldn't he see it from my perspective? No. Stop. That was how I got myself into this mess in the first place. This was my fault. I had to fix this.
The shifting light under the door and the giggles and shouts outside meant that the frisbee team was back. They must have gone to Caroline's room to hang out after practice.
A knock on the door. The knob turning. The door opening. I jumped to my feet. He was here.
"I'm so sorry!" I sat back down and put my head in my hands, trying not to cry. "I am so so sorry. I really screwed up, I know. But I can't take not talking to you! I just miss you so much!" Oh no, there were the tears. "I'm just so sorry."
A change in pressure on the bed. "Yeah?"
A hand on my shoulder. "It's okay, Amelia. We'll figure this out. I'm just really glad you apologized."
Relief flooded through me. We were talking again, and we would figure this out. I did the right thing this time.